I wanted to post a nonpolitical story today because tomorrow is Super Sunday and I thought, why not write something uplifting. Unfortunately, the Democratic National Committee couldn't go one day without expressing solidarity with our enemies.

Hot Air has video of an Islamic Imam providing the DNC with an opening prayer calling for the end of American oppression and occupation of Iraq. The Imam's name is Husham Al-Hussainy and he has been an avid supporter of Hezbollah and an avid hater of the United States. So naturally, the Democrats felt it necessary to invite him to open their Winter Meeting. -Video and Background Here-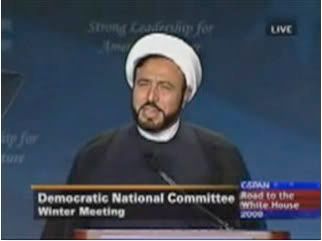 Al Hussainy's remarks to the DNC: We thank you god, to bless us among your creations. We thank you, god, to make us a great nation. We thank you, god toss send us your messages through our father Abraham, and Jesus and Mohammed, through you, god, we unite, so guide us to the right spot we wish for peace, equality and help us to stop the war and violence, and oppression and occupation.

And the Democratic Party, led by Howard Dean, is confused why so many Americans question their loyalty and their patriotism. At every turn they are sympathizing with terrorists, undermining the war in Iraq, leaking national security secrets, and slandering the U.S. Military. Somehow, I doubt inviting a radical America-Hating Imam to give their opening prayer is going to quell any public concerns.