I was planning to watch "300 on the first night it came out. Unfortunately, my life got in the way and I wasn't able to see it until Friday afternoon. But better late than never, my invisible friend likes to say.

By far, this movie is one of the most visually stunning epics I have ever seen. It takes it one notch above the look and feel of another of Frank Miller's movies, "Sin City".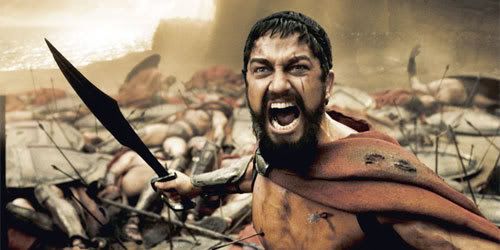 From the slow motion fight scenes to the look of the Spartans themselves... everything is incredible. I'm not going to go into a long review because you can find one anywhere and because frankly, people will make up their own mind about the film. But I will say that this movie is worth seeing and is like nothing else in theaters.
However, the movie is loosely based on facts so If you want historical accuracy for your noggin, then read a book. But if you want high level entertainment, check out "300".

As far as the politics are concerned: Yes, the undertone of the movie is somewhat pro-Bush and very pro-American. Especially in terms of the war on terror and the type of enemies we face. But that shouldn't stop anyone from seeing or enjoying the movie.