…that they create fake mug shots of members of the Bush administration in order to feel special. And some people, as you will see, are moved by the patheticism.

Fake Mug Shot of Bush at Public Library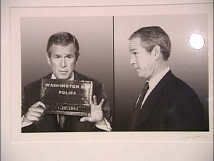 MyFoxNY.com -- Two artists created portraits of President Bush, Vice President Dick Cheney and other White House officials that are suitable for hanging -- in a police station. The photos are on display at the New York Public Library -- and some people said that's not an appropriate place. Fox 5's Rob Malcolm explains in his video report.