Yesterday, I purchased the Military & Police .40 compact; it is to be used as my concealment weapon. I currently carry the full size M&P 40 for security duty as well as on the streets. Obviously, however, the size of the MP 40 makes conceal-carry almost impossible. I needed a weapon that carries substantial stopping power, high capacity (10+1 rounds per mag) and can be easily tucked away in the lower back. –I got it!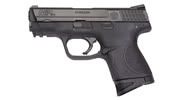 With the polymer frame, the compact, like big brother, is incredibly light. The lightweight frame coupled with the accuracy of the weapon makes it, "one of those guns". Whether it's field duty, tactical duty, personal defense, or conceal-carry… the M&P 40C is basically anything and everything you need.

I will post comparative pictures of my full size and compact later tonight; as well as functionality pics. And I will have video of the weapon in action by the end of the week.

Update:


The MP40 model is completely ambidextrous. Slide stops on each side. The magazine release can be switched for left-handed shooters. But the best comfort feature is the adjustable hand grips offered. -Small, medium and large.

Both of my weapons do not have any safety mechanism and both are double action only. As you can see from the photos, dismantling the gun is very simple; cleaning is very simple. Even the high capacity, double stack magazine is easy to clean

Here are the Tech Specs:
Model: M&P
Caliber: .40S&W
Capacity: 10+1
Barrel Length: 3.5"
Front Sight: Steel Ramp Dovetail Mount (Tritium Sights Optional)
Rear Sight: Steel Novak® Lo-Mount Carry (Tritium Sights Optional)
Trigger Pull: 6.5 lbs.
Trigger Travel: Rest to Fire .300 in.
Trigger Reset: Approx. .140 in.
Frame: Compact
Finish: Slide and Barrel Black Melonite®, 68 HRc
Overall Length: 6.7"
Material: Zytel Polymer Frame, Stainless Steel Barrel/Slide and Structural Components
Weight Empty (No Mag): 21.9 oz.
Overall Height: 4.3"
Width: 1.2"
Sight Length: 5.75"